Serena by Dubai Properties recently opened the flood gates for investors to get their hands on one of the best property investments currently available in Dubai. The current offer for the luxury 2 bedroom townhouse can only be defined as a great deal. Here's the short:
A low entry barrier of 10% down
On an AED 1.3 M (USD 355k) townhouse (starting price), that's AED 130,000 (USD 35k). This is an extremely reasonable amount for a 2 bedroom townhouse in Dubai.
Low Monthly Payments
The monthly payments are just 5% every 6 months until handover. On the townhouse mentioned above, it breaks down to just AED 10,000 per month. Up until buyers receive the property, only 40% of the total property is paid for.
Easy Handover
Another 30% is due when you receive the keys to your new 2 bedroom townhouse in Dubai. The buyer now owns the townhouse for 70% of the sale price. Investors have the option to re-sell on the secondary market and benefit from capital appreciation, or they may choose to keep the property and lease it out for monthly rental yields.
Post-handover payments
The remaining 30% can be paid over the course of two years post-handover. Approximate monthly payments are AED 16,250. The standard rental rate for a similar property in the Dubailand area is 10%, which is approximately AED 11,000 per month in rental income.
Other Discounts
Dubai Properties is offering to pay 50% of the required DLD fees, which amounts to an additional savings of AED 13,000 for a 2 bedroom townhouse in Dubai.

Contact a Property Consultant at Zola Group

to see how you can pay 0% agency fees.
---
The Community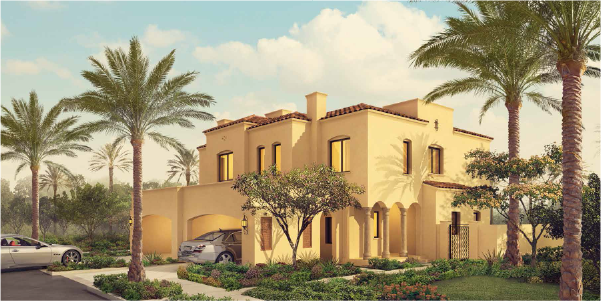 The 2 Bedroom Townhouse
Serena is a Spanish Mediterranean themed community with authentic tile roofs and elegant details, reminiscent of the Spanish Riviera. This residential development offers its residents ample space for life and recreation, so your home always feels like a vacation. The unique community design encourages privacy, whilst maintaining a close-knit neighborly feel, making it the ideal location for families and young couples to surround themselves with beauty, culture and community.
The Community Centre
Community Centres are the social and recreational hub of Serena, catering to your family's wellness through healthcare clinics, sports facilities, recreational areas, and a host of essential retail facilities. Included in the Community Centres are state-of-the-art gyms, swimming pools and children's indoor play areas.
The Plaza
Experience the lively and fresh vibes of the Plaza that is poised to become a popular outdoor destination for entertainment and leisure. The attractive ambience of the Plaza seamlessly blends traditional Spanish themes with modern touches. Explore the exciting choice of retail options, savor tempting cuisines at the restaurants, or sip on a hot cup of coffee while catching up with friends.
Zola Group Real Estate Services are available to local and international clients looking to take advantage of the highly rewarding property market in Dubai and the UAE. You're invited to contact our property consultants via email or phone to learn more about our specific services or to inquire about current real estate opportunities. To view current property listings Click Here.