About St. Lucia
Saint Lucia has the newest, and arguably, the best positioned citizenship-by-investment program in the Caribbean.  The Saint Lucian passport is ranked highly at 35th in the world. Saint Lucian citizenship will not only allow for increased ease of travel, it can also open doors to rewarding business opportunities around the world.
Saint Lucia's government is a two-party parliamentary democracy within the British Commonwealth realm. The Queen of England is the Head of State, represented on the island by a Governor-General.
In recent years, an increasingly educated workforce and improvements in infrastructure and port facilities have attracted foreign investment in several industries; including tourism, petroleum storage and transshipment. Saint Lucia has been able to attract an influx of foreign business and investment, primarily in its offshore banking and tourism industries, which is Saint Lucia's main source of revenue.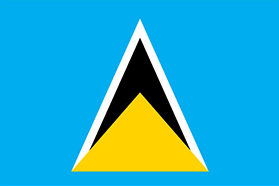 Benefits of this Citizenship:

The opportunity to reside in one of the most exotic islands in the Caribbean.
When the citizenship is acquired, you and your family may enjoy the benefits of Citizenship life, which can be passed to future generations.
Visa-free travel to up to 121 countries around the globe.
Reliable and Efficient processing.
St Lucia recognizes dual citizenship.
There is no requirement to travel to St Lucia during the application.
No residency requirement for the process.
No estate or inheritance tax.
No country restrictions.
Investment by purchase of non-interest bearing Government bonds, not been offered by any of the Caribbean citizenship programs before.
Economically legally and socially stable country, which is part of the Commonwealth with democracy based on British parliamentary system.
Due to Saint Lucia's popularity as a tourist destination, there are many non-stop flights from the US to Europe.
There is an ability to include family members in applications.
The option to invest in the Saint Lucia's National Economic Fund, in real estate, in an enterprise project, or in Governmental bonds.
No interview or language requirement.
No residency or travel requirements, only the exception that the Oath of Allegiance must be taken in Saint Lucia or before any Saint Lucian Embassy, High Commission or Consulate.
Citizenship by Investment Options
Contribution to the National Economic Fund

Applicant, Spouse and Dependents
Investment in Government Approved Real Estate Project

Applicant, Spouse and Dependents
Investment in Approved Enterprise Project

Applicant, Spouse and Dependents
Purchase of Non-Interest Government Bonds

Applicant, Spouse and Dependents
Reach Out
We'd love to hear from you
Visa-Free Travel
This passport offers visa-free and visa-on-arrival travel to the following countries and territories.
| | | | |
| --- | --- | --- | --- |
| Andorra | El Salvador | Kiribati | Saint Kitts and Nevis |
| Antigua and Barbuda | Estonia | Latvia | Saint Vincent and Grenadines |
| Argentina | Fiji | Lesotho | San Marino |
| Austria | Finland | Liechtenstein | Singapore |
| Bahamas | France | Lithuania | Slovakia |
| Barbados | French Polynesia | Luxembourg | Slovenia |
| Belgium | Gambia | Malawi | South Korea |
| Belize | Greece | Malaysia | Spain |
| Botswana | Grenada | Malta | Suriname |
| Bulgaria | Guatemala | Mauritius | Swaziland |
| Chile | Guyana | Micronesia | Sweden |
| Colombia | Haiti | Monaco | Switzerland |
| Costa Rica | Honduras | Netherlands | Trinidad and Tobago |
| Croatia | Hungary | Nicaragua | Tunisia |
| Cuba | Iceland | Norway | United Kingdom |
| Cyprus | Ireland | Panama | Vanuatu |
| Denmark | Israel | Peru | Vatican City |
| Dominica | Italy | Philippines | Venezuela |
| Dominican Republic | Jamaica | Poland | Zambia |
| Ecuador | Kenya | Romania | Zimbabwe |